danceScape Social Dance Club and Cuvée Grand Wine Tasting 2018
By
admin
on January 22, 2018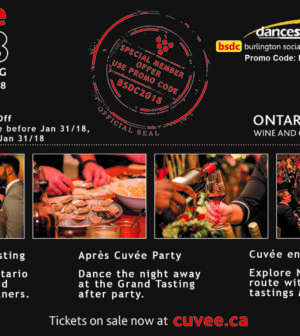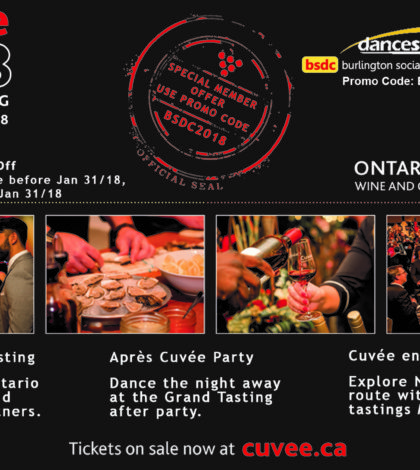 danceScape Social Dance Club (Burlington) is pleased to be a proud partner of Cuvée Grand Tasting's 30th anniversary. Cuvée is Ontario's biggest and most prestigious wine event. The black-tie gala had over 800 attendees last year and features tastings from over 48 Ontario wineries, and 12 sensational culinary partners.
Now celebrating its 30th year, Cuvée has become one of the most prestigious and largest celebrations of Ontario wine. Proceeds from the Cuvée wine weekend support grape and wine scholarships and research initiatives at Brock University's Cool Climate Oenology and Viticulture Institute (CCOVI).
>>>>>>>>>>>
Cuvée Grand Tasting
MARCH 23, 2018
Grand Tasting – 7:30 p.m. to 10 p.m.
Après Cuvée Party & Dancing – 9:30 p.m. to midnight
To purchase tickets, please go to
https://kiosk.eztix.co/kiosk-optimised/536010
Use danceScape's Promo Code: BSDC2018
Cuvée Grand Tasting tickets are available to danceScape members for $150 before Jan 31 or $175 from Feb 1 – March 22, 2018 – (Regular ticket price is $200). Tickets also include
The Cuvée Grand Tasting event features tastings from 48 Ontario VQA wineries (featuring over 100 wines) and 12 sensational culinary partners – all tastings are inclusive in the ticket price.
The Cuvée en Route Passport features wine tastings at 30+ wineries over the weekend – this is also included in the grand tasting ticket price or is available for purchase on it's own.
>>>>>>>>>>>
ABOUT CUVEE GRAND TASTING
The Cuvée weekend wine experience kicks off Friday evening with the Grand Tasting at the Scotiabank Convention Centre. Guests will have the opportunity to taste wines that were selected by each winemaker as their favourite. What wine will each winemaker choose? Their selections will be revealed at the tasting.
To complement the VQA wine selection, guests will also have the opportunity to sample signature dishes created at live cooking stations by local and guest chefs.
The Après Cuvée Party will keep the celebration going with dancing to Cuvée's featured band – The Associates. Après Cuvée features sparkling wine, Icewine as well as local craft beer and cider stations.
Included with your ticket for the Grand Tasting is your opportunity to complete the Cuvée wine weekend experience with a Cuvée en Route passport at over 30+ wineries.
ABOUT DANCESCAPE
r mission is to inspire people to laugh, be fit, make fun friends, and experience romance through Dance. We teach people to gain confidence in themselves, not only on the dance floor but also in their personal and work life. We connect couples and singles from cross generations to live fun, fearless, and magical lives. Nothing makes our Team more happy than when students smile, laugh, hug, and embrace each other during their fun dance lessons and friendly social events. Our online and in-studio programs include Ballroom/Big Band, Salsa/Latin, West Coast Swing/Jive, danceTONE Fitness and danceFLOW QiGong/TaiChi. Download our FREE Video app at www.dancescape.com/app and start learning to dance online!
danceScape was founded by Robert Tang & Beverley Cayton-Tang, former 3-time Canadian and 2-time North American Ballroom Champions, as seen on Dragons' Den, Healthy Gourmet, ParticiPACTION's "Get Inspired. Get Moving" fitness campaign, CTV's "Canada in a Day" and "The Marilyn Denis Show". #shallwedance?
HOTEL ACCOMMODATIONS
For those wishing to stay over, The Marriott on the Falls is offering Cuvée ticket holders a special corporate room rate of $139 that can be used March 23 and 24. This block of rooms will be held until February 28, 2018 at 5 p.m. For Reservations please contact Marriott on the Falls at 1-877-353-2557 and quote the group name: Brock University – Cuvee Group Block.