FREE danceTONE Fitness at "Fit in the Core", Downtown Burlington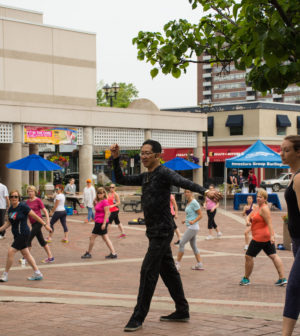 danceTONE is a medium impact dance-based fitness program that incorporates Ballroom, Salsa/Latin and Swing/Jive movements to sculpt and condition the entire body. The total body toning begins with a light warm-up and toning of the arms and core, followed by a fun fusion of easy-to-learn Rumba, Cha Cha, Salsa/Mambo, Charleston, Tango, Swing/Jive/Lindy Hop, Foxtrot, Waltz, Chi (Qi) Gong/Tai Chi, and other dance steps that strengthen, tighten and slim the abs, buns and thighs. From time-to-time, we also feature guest Zumba instructors. No dance experience necessary!
danceFLOW/lifeFLOW Chi Gong is a fusion of stretching, breathing, and mind-to-body/body-to-mind exercise techniques for stress relief, relaxation, flexibility, fitness, and energy balance. In Traditional Chinese Medicine and Martial Arts, "Chi (Qi) Gong" is a practice of breathing, physical movement, and mind to cultivate and balance Chi (Qi) which is the "intrinsic life energy". Traditional Chi Gong dates back to 4000 years and incorporates rhythmic breathing with slow repetition of fluid movement, a calm mindful state, and visualization of guiding Qi through the body along meridians paths. danceFLOW/lifeFLOW Chi Gong incorporates inspiring and fun dance-based breathing, stretching, and toning exercises to manage the flow of energy that will transform yourself to better health, wellness, and joy.
danceTONE is offered Mondays and Wednesdays at 6:00 p.m. and danceFLOW/lifeFLOW Chi (Qi) Gong is offered on Thursdays at 6:00 p.m. See registration information below. Ask about danceTONE and other FUN medium cardio Ballroom/Latin dance-based Fitness or Corporate Wellness programs that can be brought into your workplace! Contact danceScape at [email protected].