CN Tower Edgewalk
By
admin
on July 26, 2014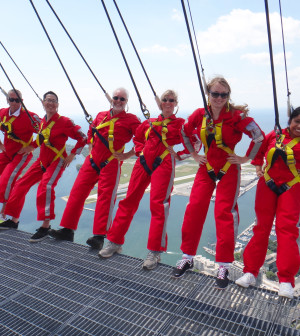 The SkyhiClub — inspired by danceScape students, family and friends — is a Social Club consisting of FUN individuals, associations, and businesses who love to laugh and are passionate about inspiring each other to live life beyond the now. Our mission is to create fun life-inspiring "Bucket List" experiences for Rebels & Romantics. But it's more than a place to share Bucket Lists. It's a way of imagining and experiencing life as if the sky were NOT the limit.
Thanks to Glenn Edwards, Deedee Davies, Jim Salmon for coming out to "Edgewalk" at the CN Tower, 1,168 feet above the ground. In this highlights video, Robert Tang faces his fear of heights, as part of the SkyhiClub at danceScape's "Bucket List"! See Glenn lead the Conga dance on the Edge!
Many thanks also to those who came for "moral support" … Beverley Cayton-Tang, Selina Tang-Brudnicki, Nicholas Brudnicki, Aaron Tang, Cheri Edwards, Sally & Brenna (congratulations James, for also doing Edgewalk).
Thanks to Allanah for being such a great Edgewalk Guide. More photos at www.facebook.com/skyhiclub.
Robert & Beverley are former 3-time Canadian and 2-time North American Undefeated Amateur Standard Ballroom Champions, as seen on Dragons' Den, Healthy Gourmet, and ParticipACTION's "Get Inspired. Get Moving" program.
What's on YOUR Bucket list? More info. at www.skyhiclub.com.