danceScape & Williamsburg Dinner & Dance
By
admin
on July 26, 2014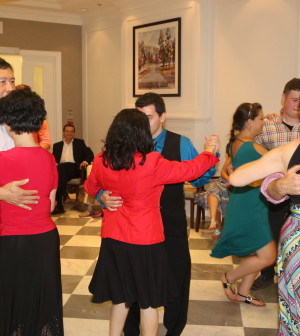 danceScape and The Williamsburg Uptown presented a very special evening of Social Dancing and Lessons that celebrate the Big Band and Latin music of the Brant Inn era. We are passionate about re-connecting the generations with the music and dance of the Ballroom and Big Band era!
Sharon Gilmour-Glover and Tim Glover sang an acoustic jazz rendition of "Fly Me to the Moon" as a surprise to Ricky, Sandy, Terry & the Montgomery Family – grandmother, sons, and grand children! There were a number of "Firsts!" Sharon and Tim have not played in public for years (she mentioned to Beverley that she could not sing before because of a health issue … so we were so happy that could finally hear them sing for our First time). Also, we could never get Sandy & Terry to be part of performance group (understandably so!), and were so happy that they did an impromptu "First demo" … NO Pressure, right? So great to see their family there and the cross generations experiencing laughter, music, and dance!
Please call 905 633-8808 or Email [email protected] for our next event!